Our School History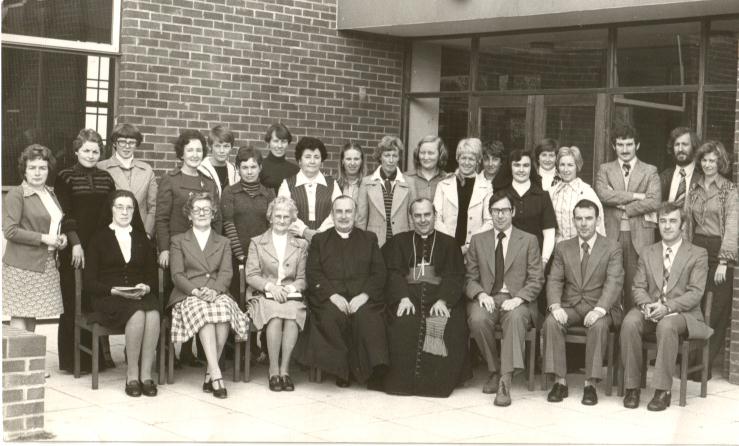 The late Canon Francis McLarnon, Parish Priest and the original staff of St. John the Baptist P.S. photographed with the late Cardinal Tomas O'Fiaich at the blessing and official opening of the school in 1975.
St. John the Baptist P.S. is situated on the upper Garvaghy Road on the north-west outskirts of Portadown. The school first opened its doors in September 1975 to serve the shifting Catholic population of Portadown that had largely moved to the Drumcree/Ballyoran/Garvaghy area. The school mainly draws its children from the surrounding housing estates and private housing developments. However, a significant number of children travel to the school from outlying rural areas. When the school originally opened there were over five hundred children enrolled. Current enrolment stands at four hundred and seventy pupils.
The present principal and staff, in partnership with the Governors, seek to provide a "broad, balanced and relevant curriculum, which allows each child to realise its maximum potential within a Catholic School setting".
The diversity and culture of the school is greatly enriched by our newcomer pupils and those attending our Irish Medium Unit which first opened its doors in 1998.
The school's greatest resource is its professional teaching staff who are dedicated to the achievement of high standards and the care of its pupils. This work is ably supported by our classroom assistants who make a very positive contribution to the curriculum and school life.
The school has gained a growing reputation within the community and beyond for its involvement in many interesting and challenging projects.
A range of extra-curricular activities are on offer which include Gaelic, sports club, running club, music and soccer to mention a few. An "Early Bird" club operates from 8.15am to 8.55am to accommodate working parents.
The school is very well equipped with up to date technology; all classrooms have an interactive whiteboard, internet connectivity and access to iPads. There are two playgrounds, a gymnasium, a football pitch, changing facilities, well resourced classrooms and five shared resource areas.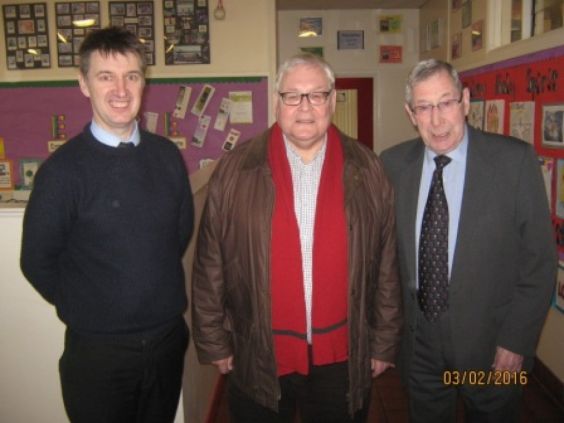 Past Principals of St. John the Baptist PS (left - right)
Mr Mario Gribbon (January 1997 - March 2018) Mr Paddy Hoey (September 1992 - February 1996) Mr Seamus Gribbon (September 1975 - August 1992)
St John The Baptist Primary School, 250 Garvaghy Rd, Portadown, Craigavon, Co Armagh BT62 1EB Phone: 028 3833 6211